New England Vacations...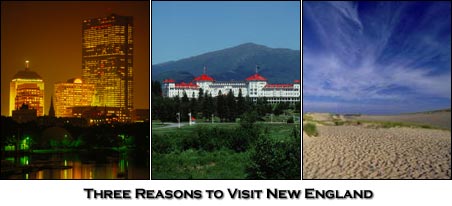 Mention New England vacations and most people picture fall foliage, or white stepple churches. For others it's a whale watch or a ski trip in Vermont.
And there's the famous clam chowder festivals, and the beautiful array of lighthouses that pocket its thousands of miles of coastline. And of course there's Boston.
A charming city of old and new. A city reclaimed from marshland, and full of folks that take their politics and sports seriously. A city that welcomes visitors with plenty-to-see attractions. But New England vacations are even more. They're six vacations in one - Connecticut, Maine, Massachusetts, New Hampshire, Rhode Island, and Vermont. And here's just seven things you can do on your New England vacations…
Ride to the highest point in the Northeast known as "home to the world's worst weather." Stroll along endless miles of white sandy beaches seething with wild life. Picnic in the first public park in the U.S. in the middle of a major city.
Escape back in time and share history with original settlers from England in accurately portrayed villages. Take a 21/2 hour cruise on the largest and one of the deepest lakes in New Hampshire.
The world's largest casino isn't in Monaco or Las Vegas – it's here in New England. And it's also a resort with great entertainment and fine dining. Soak up the scenery at any one of New England's 18 national parks.
And there's mountain trails, and Newport mansions, and... well if you'd like to discover more about these places and many more famous New England attractions then go to New England Vacations Guide now.
Return from New England Vacations to Last Minute Getaways