Guide To Languedoc Vacations...Another Dimension To France...
Have you ever wanted to travel to France but didn't know where to start? Languedoc could be it!
This region is somewhere that everyone should visit at least once in their lives. Maybe the idea of pavement cafés, fresh coffee, and warm sun on your face is appealing? Or pretty local restaurants with tables outside, fine local wine and delicious French food?
If this sounds appetizing, then this region of France could be right up your street. The region of Languedoc-Roussillon as it is officially known, encompasses the southern French départements of Aude, Gard, Hérault, Lozère and Pyrénées-Orientales.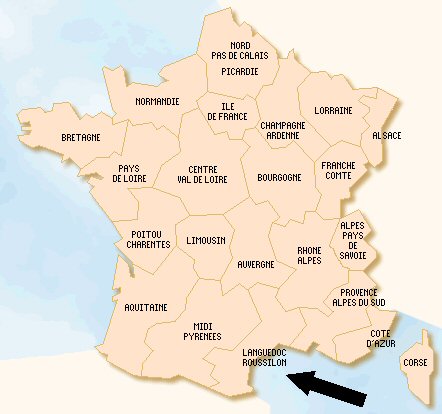 It's way down at the bottom of France, more or less in the middle of the coastline, sitting between Provence on one side and Spain on the other. To the north is the Massif Central mountain range and to the south, the warm and inviting Mediterranean sea.
The capital of the region is Montpellier, which has once again become the sovereign city it was in the past, and today has the strongest demographic growth of France.
A Mediterranean climate prevails along the coast and with the Pyrénées mountains close by, a mountain climate and excellent skiing is also on offer. Wine is the main business here, with the Languedoc being the largest wine producing area of France.
Simon moved to live in this part of France about 4 years ago. Before that he had lived all my life in Central London. Simon needed a change from the big city with it's hectic pace of life, and a move to this wonderful part of France, Languedoc seemed like the obvious choice.
Having holidayed there for many many years it was an easy move to make, and now he's there, the blue sunny skies (even in winter) and warm Mediterranean sea are a constant reminder that life here is pretty good.
When he lived in London, as soon as the weather was good enough to want to escape to the countryside or the beach, everyone else had the same idea, so they ended up spending hours stuck in traffic trying to leave.
Here, they simply jump in the car a few times a week and drive 20 minutes to the beach for some serious relaxation under the hot afternoon sun. Or perhaps we'll join friends for an afternoon's waterskiing out of the port at Cap D'Agde.
Then, when the summer heat has gone and the sweaters have come out of the cupboards, we're only a three hour drive away from a weekends skiing in the Pyrenees. Not bad really, and with such wonderful cities as Montpellier only a half hour drive away, we're not left wanting for much.
Having lived here, he realised that there is so much to know about this part of France, people coming here on holiday would undoubtedly miss out. Not really knowing what to see or where to see it. He has built a site focussed on everything you need to know in order to make your holiday to the Languedoc as enjoyable as it can be.
From where it is and how to get here, to where to stay and what to see while you're here. He'll tell you which airports serve the Languedoc, how to get the best deal when hiring a car, how to get here by train, and even what the weather's going to be like during your stay.
Not to mention a long list of sightseeing ideas. All in one, easy to use site. There's so much to write about that it's going to be a long, ongoing Languedoc project.
Can't find what you're looking for? Or do you want to find something quickly on this site? Try Google Search!
Return from Languedoc Holiday Guide to Last Minute Holidays