Barcelona Spain Travel Guide
What does Barcelona in Spain have to offer? The beautiful historic city of Barcelona Spain was put into the World media spotlight after the Olympic Games were held there in 1992.
Since the Games the popularity of Barcelona as a European destination has steadily increased until the present day were it is now established as one of the leading European cities for art, history and culture.
Where is Barcelona Spain?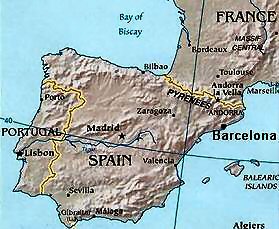 Barcelona is cradled in the North Eastern Mediterranean coast of mainland Spain, about 2 hours drive South from the French Pyrenees. It's the capital of Catalunya, a region of Northern Spain that has it's own unique culture, traditions and personality.
Barcelona city is one of a kind
Few European cities can offer you the wide diversity of cultural experience that you'll find in Barcelona. Couple that with the luxury of 4.2 km of beach only a short walk from the city centre, and warm sunshine most of the year, you have all the makings of a great holiday in Spain.
A city of modern art and Modernist architecture.
Many great painters and artist worked in Barcelona at some time and their influence is still evident throughout the city. Two of which are Picasso and Miró who have museums dedicated to some of their more important works. There are also 55 other museums and art galleries dotted all around the city so you'll always have plenty of art to experience whilst here.
Beaches on your doorstep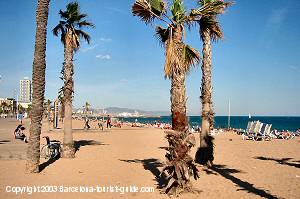 Should you ever find yourself suffering from art and culture overload then you can spend the day recovering on one of Barcelona's sandy beaches only a short stroll from the city centre. Order a sangria at one of the bars and kick of your shoes, sit back and soak up the sun, sea and the view. Cuisine in Barcelona Spain While you're on the beach you can sample some of the best seafood the Mediterranean has to offer, or if you prefer, there are plenty of excellent restaurants and bars that offer tapas. (Small tasty bite-size dishes of Spanish food). There are also many restaurants providing more conventional dishes if you prefer a traditional meal.
Architecture of Barcelona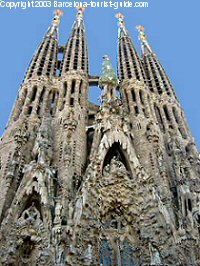 Barcelona Spain is home to masterpieces of many great architects. The most famous of which is Antoni Gaudi. Gaudi's work is admired by architects around the World as being one of the most unique and distinctive styles in modern architecture. One of Gaudi's most famous works is La Sagrada Familia, a giant Gothic Cathedral that has been under construction since 1882 and won't be completed for another 80 years.
The Barcelona Shopping Experience
There are approximately 35,000 shops in Barcelona city centre. Most of the main shopping areas are in pedestrianized zones with wide open boulevards. This means you can wonder from shop to shop without worrying about dodging the traffic. Another big plus is that your money will take you roughly twice as far in Barcelona than it will in London or Paris.
You can purchase fine European designer labels at a fraction of the cost and if you are from outside the European Union you can claim back the tax on your purchases.
Night Life in Barcelona Spain
The night life action really starts around 11pm. On Saturday nights it's quite normal to see hundreds of people strolling up and down the Ramblas until 3am.
If you want to go to a bar there's dozens all around the city ranging from the small and intimate to large and busy. Most bars are open till 12:00 on the weekdays and 1:00 am Friday and Saturday nights. There are many great clubs too so if you feel like partying the night away to the early hours of the morning Barcelona can accommodate you!
Is Barcelona Spain the holiday destination for you?
If you're looking for a holiday in a city filled with history thousands of years old, art and culture but would also like to lie on the Beach when you want to take a break, Barcelona can offer you all that and much more.
---
Copyright Statement
This Barcelona tourism article was written by Dr John Bolton and may be reproduced on any travel-related website provided this copyright statement is displayed unedited in its entirety at the foot of the article and you use the exact same HTML code to ensure a clickable link back to the author's site.
Further articles on Barcelona Spain are also available. Contact the author for more information. Copyright © www.barcelona-tourist-guide.com
---
Return from Barcelona Spain to Last Minute Holidays