Algarve Holidays Are Incomplete Without Visiting The Algarve Beaches
Not much - and I haven't found it yet! In a nutshell, Algarve holidays has everything that a discerning holidaymaker could want.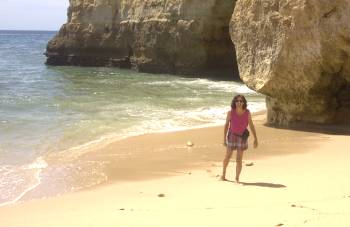 Algarve Portugal was an important region centuries ago, when Portuguese mariners set out in tiny wooden ships to discover what were then the unknown parts of the world. Things change, and now the Algarve is famous mainly for its delightfully-situated deposits of coastal sand!
So, where do you find those Algarve beaches at those Algarve holidays? The Algarve is the southern-most part of Portugal, which, with Spain, makes up the Iberian Peninsula.
In ancient times, the western tip of the Algarve was considered throughout Europe to be 'the edge of the world'. It's certainly the end of continental Europe if you're travelling west.
Because of its history, there is culture in abundance throughout the region. And that is why it is such a wonderful vacation spot: Algarve holidays have everything for the holidaymaker.
Things aren't 'grand' in the cultural sense of the word, because Algarveans are down-to-earth people. But the area has been host to migrant invaders from many civilisations throughout its recorded history.
And the legacy of that diversity is still in evidence to latter-day vacationers. Of course, initially, most visitors choose Algarve holidays because of its famous weather and beaches...
Algarve Holidays...Beaches

There are over 100 miles of beaches in the Algarve! If you're used to the scale of a huge continent, that might not sound much, but the area is only some 90 miles long and 30 miles wide between its utmost extremities.

What's even more gratifying is the diversity of choice when it comes to Algarve beaches. On the west coast there are the windward beaches with large dunes (and the best surfing). The southern coast offers open, extensive beaches to the east and smaller, more secluded 'cove' beaches to the west.

So the ambience, view and even sea conditions vary widely within a short driving distance. Whatever type of beach experience you're after, the Algarve can provide it. But, visitors soon discover that there is so much more to the region, even for beach-lovers.

Those who don't care to spend all of their time on a beach will find a great selection of alternative activities (among them, golf, watersports, horse riding, tennis and sightseeing), all to be enjoyed amid stunning scenery at their Algarve holidays.

Artists in particular seem to love the 'light' in this area (and, of course, the fine weather in which to paint or draw).
Algarve Holidays...Architecture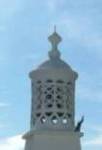 The region's Moorish influences are everywhere, especially in the architecture of 'ordinary' residential houses.

The African Moors occupied the Algarve (and much of Portugal and Spain) for centuries, and although they were eventually expelled (from Portugal in 1250 AD), their legacy lives on in the features of many buildings.

This is especially evident in the strange yet splendid chimneys that adorn many Algarve properties. (Even the name is believed to be a Moorish legacy... 'Algarve' supposedly comes from 'Al Gharb' or 'western land' which is what the Moors termed it.)

But there are many other fascinating aspects to the architecture of the Algarve, as you'll discover if you visit. The houses' white painted walls and uneven tiled roofs, often higgledy-piggledy where close together, take one back to earlier, simpler times.

Generally, the only adornments that Algarve houses display (if you don't count those chimneys) are the painted frames around the doors and windows. And even those colours have local significance, denoting wealth or piety, or perhaps warding off evil spirits...
Algarve Holidays...Nightlife
Just about anything's an excuse for a festival in the Algarve, and the celebrations generally make for a lively spectacle. Some are in honour of saints, others commemorate historical events and yet others celebrate elements of the local lifestyle.

On a recent visit to Albufeira, I was fortunate enough to witness two consecutive nights of the Festa dos Pescadores (Fishermen's Festival) where the importance of seafood to the local economy was celebrated (with much live folk music, dancing and copious consumption of said seafood)!

Alongside such native activities, there are plenty of 'tourist' things to do. The larger resorts have casinos and dance clubs, and live music is very much a part of Algarve life. During our Albufeira stay, we were treated (among other events) to free concerts, in the Old Town's square, by a local rock band, a fado (folk music) ensemble and a flamenco group from Spain. Wonderful stuff in a balmy climate!

And of course, there's always one of my favourite pastimes, let's call it 'promenading'. That's simply an evening stroll in a colourful, warm climate, watching the bustle of the local nightlife go on around me. Delightfully relaxing!
Algarve Holidays...Shopping
Unlike many tourist spots, Algarve has been slow to adopt the 'cosmopolitan' shopping experience. Of course, you will see the unavoidable McDonalds 'M' during your travels, but much of what is on offer to shoppers in the Algarve is unique to the country.

Many towns have weekly or monthly markets, where local produce, both food and goods, are on sale. Different areas have their own specialities, with wickerwork and carved wooden goods a feature of places like Monchique (in the mountain area to the north west of Algarve) and celebrated pottery wares on sale in Porches.

Those who want 'serious' shopping like they do at home can try the major resorts (Albufeira, Quarteira and the capital, Faro) or the Quinta shopping experience at the Quinta do Lago complex along the coast west of Faro.
Algarve Holidays...Countryside
The Algarve region is separated from the rest of the country by mountain ranges (serras). While they're not huge (on a Himalayan scale) they do manage to hold back the cold weather from the north and are responsible for the gentle, year-round climate.

But, they're only a short drive from the coast and offer a different experience to the vacationing visitor. The scenery is stunning, the pace of life even more sedate, and the sensations unforgettable.

You reach the mountain areas on small, local roads surrounded by foliage and amid the scent of cork, citrus and eucalyptus trees. A simple day's drive can take you from a beach area in central Algarve: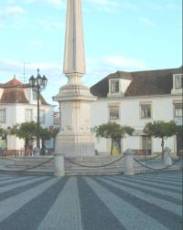 - up through the stunning mountain areas and east to the border with Spain,
- down the Guadiana river that separates the two countries, visiting the ancient fortifications, to
- the radially-cobbled main square and grid-like streets of Vila Real de São António
- and westward via picturesque fishing ports like Olhão, through Faro, the region's capital, then back to your start point in time for dinner (unless you've chosen to stop at a charming country inn en route!)
Algarve Holidays...People
But perhaps the best advertisements for the Algarve as a premier vacation destination are the people themselves...

Algarveans are friendly and responsive. They accept with genuine warmth the flock of visitors among whom they must live their lives, and are quietly confident in their own culture and ways.

Many of the small-scale fishing enterprises still launch from the same beaches that are used by holiday-makers. It's hard not to give a wry smile at the sight of several local pescadores good-naturedly dragging their small craft toward the sea between the variously-shaded, semi-naked bodies of visiting sun-worshippers.

And I leave you with this thought...Algarve Holidays, with its friendly locals, warm climate, gorgeous beaches and varied, beautiful landscapes, is the holiday spot of choice for most Portuguese from the rather grander, more cosmopolitan north of the country.

Why venture further, they must wonder, when Paradise is just a few miles' drive to the South?

Copyright Statement

This Algarve Holidays article was written by Jennifer Dodds and may be reproduced on any travel-related web site so long as this entire copyright statement is displayed unchanged at the foot of the article and the HTML code ensures a 'clickable' link back to the author's site.


Copyright © www.algarve-beach-life.com
---
Can't find what you're looking for? Or do you want to find something quickly on this site? Try Google Search!
These web site links are listed as a convenience to our visitors. We have done our best to select only the very best resouces for you. If you use these links, we take no responsibility and give no guarantees, warranties or representations, implied or otherwise, for the content or accuracy of these third-party sites.
Return from Algarve Holidays to Last Minute Holidays